!-GťnťrĀEpar Avanquest Technology v:8.0. Pour plus díinformation, visitez : http://www.avanquest.com -->
Due to the nature of these props, they are for use of experienced jugglers only
By purchasing from this site you are acknowledging that three finger juggling has no
responsibility for any injurys or damages that occur from any use
We are proud to present the Three Finger Juggling razorback.

This evil looking knife has a large well balanced blade, one side is sharpened to a razor sharp edge (well completely blunt edge! but sssshhhhhhhh donít tell the audience!)

The back side has an aggressive saw, commonly see in hunting knives (you wonít be sawing much as the saw bits are rounded and smooth).

They will have you shouting "you call that a knife?......now thatís a knife" to all your juggling friends! This is the only juggling knife available in the world in this unique style!

Add a new edge to your performance, or just scare the pants off your family and friends!

One unique property of this knife is the "Swish" noise produced when swinging it, this adds an Erie realism to these knives you canít find anywhere else! Along with the beautiful sharpening sound produced when running one down the other, it is hard to believe they are not sharp!

The varnished, real oak handles and EPDM rubber stoppers make these knives a dream to juggle.
THE RAZOR BACK
Weight: 13 oz

Length: 21 Inches
Width: 2 - 1/2 Inches

Price: $45.00 each

Add To Cart Will Add 1 Knife To Your Cart - Quantities Can Be Changed There
These bags fit a single or set of three of any of our standard knives (Razorbacks, Double Diamonds, and Buccaneers) Or the Machetes. They hold each set of knives tightly, so they wonít fall out easily and they will protect them from scratches and damaging you other props.

The triple bags are capable of holding mix and match sets of knives and machetes
Triple Bag $15.00
Single Bag $8.00
Accessories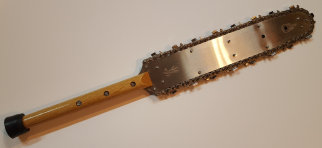 THREE FINGER JUGGLING LLC