!-GénérEpar Avanquest Technology v:8.0. Pour plus d'information, visitez : http://www.avanquest.com -->
Due to the nature of these props, they are for use of experienced jugglers only
By purchasing from this site you are acknowledging that three finger juggling has no
responsibility for any injurys or damages that occur from any use
Once again a first from Three Finger Juggling! Long talked about, and finally here, Chefs super sharp meat cleavers!

These knives have an aggressive large sharpened edge (once again completely blunt but wow they don't look it!!!!). Obviously they are not going to make for balanced spins, but do allow for comfortable juggling as the blade tends towards the ground.

Once you are used to the slightly different juggle, nearly all tricks can be done with these scary looking props. There actually enhance tricks such as chops giving them a new skill and fear filled look.

Made from a top grade stainless steel these deadly looking cleavers will resist rust and stains better than most blades on the market.
If you are looking for an even more dangerous and intense juggle, These are just what you are looking for!!!
MEAT CLEAVERS
Weight: 17 oz

Length: 17.5 Inches

Price: $40.00 each

Add To Cart Will Add 1 Meat Cleaver To Your Cart - Quantities Can Be Changed There
Accessories
We have designed single and triple Meat Cleaver bags perfect for performers who want a nice looking bag to go with their scary looking cleavers!

This bags fits a single or a set of three of the deadly meat cleavers! With a similar design, the bag will protect your cleavers, while spicing up your performance when you reveal your cleavers out of your durable bag!
$8.00
$15.00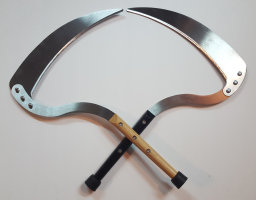 THREE FINGER JUGGLING LLC