!-GénérEpar Avanquest Technology v:8.0. Pour plus d'information, visitez : http://www.avanquest.com -->
Due to the nature of these props, they are for use of experienced jugglers only
By purchasing from this site you are acknowledging that three finger juggling has no
responsibility for any injurys or damages that occur from any use
How many times have you been asked "Can you juggle Chainsaws?" while performing???
Simple response......Way too many!!!!!
As said by one of our customers "I would happily juggle chainsaws, if only I could find one!" Well the wait is over.

I have been juggling for over 25 years and it has always been a dream to juggle a chain saw, I have spent countless hours developing and producing the Three Finger Juggling chainsaws and was over the moon to finally achieve my Dream.

Our Saws are one of the lightest available and when fully assembled weigh in at 4kg (8.8 lbs) They have a 10" bar and a specially machined toothless chain. The chain will still cut through a demonstration piece of wood, but reduces risk to the juggler. We have added a long fully padded handle for comfort and grip.

The chainsaws can be juggled running, but with the chain stationary, or via the use of our custom locking mechanism, you can have the chain running securely at a fixed speed.

What you get for your money:-
Three Finger Juggling Chainsaw with 10" bar
Tool kit for all needed adjustments
Fuel bottle - for holding the mixed gas
Hard cover for the bar and chain
Soft shell bag for easy carrying and protection of your saw

The Chainsaws are large to ship, so shipping has been estimated to best cover the costs. As always, any un-used shipping costs will be refunded

Chainsaws
Videos
JUGGLING CHAINSAW
$375.00

Weight: 4kg

Length: 36 Inches

Price: $375 each

Add To Cart Will Add 1 To
Your Cart Quantities Can
Be Changed There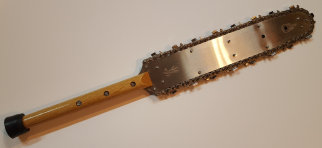 THREE FINGER JUGGLING LLC
Three Finger Juggling must stress that juggling chainsaws is dangerous and should only be attempted by highly skilled jugglers. These are real gas powered chainsaws and have the ability to seriously harm if not used correctly. By purchasing a saw from us you are accepting the responsibilities which go with it. Three Finger Juggling LLC are not liable or responsible for any injuries or damage caused by the use of these juggling chainsaws.
Juggling chainsaws is one of the most saught after juggling acts. Take your performance to the next level and always be remembered!

You cant help but grin when juggling them and your audience will also!