!-GénérEpar Avanquest Technology v:8.0. Pour plus d'information, visitez : http://www.avanquest.com -->
Due to the nature of these props, they are for use of experienced jugglers only
By purchasing from this site you are acknowledging that three finger juggling has no
responsibility for any injurys or damages that occur from any use
This bag fits any set of three of our standard knives (Razorbacks, Double Diamonds, and Buccaneers), holding each set of knives tight so they won't fall out very easily. Now available as a Single Bag too!!!
This bag fits a set of three of the deadly meat cleavers! With a similar design, the bag will protect your cleavers well, and spicing up your performance when you reveal three cleavers out of your durable bag!
We have designed a single Cleaver bag perfect for performers who want a nice looking bag to go with their scary looking cleaver!
Each bag design had gone through many phases of testing to make sure your knives stay clean, and safe! Made out of a pack material, these bags will withstand years of withdraw and sheathing, and make any performance look professional!
$8.00
Triple Bag $15.00
$15.00
This beautiful Axe bag will hold a single axe, with a Velcro strip to hold it in place
Single Bag
$8.00
3 Single Bags
$20.00
Single Bag $8.00

Single Bag
$8.00
3 Single Bags
$20.00
The Saw Blade On a Steeeck bag will hold a single Prop, with Velcro strips to hold it in place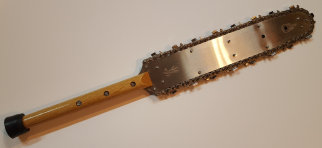 THREE FINGER JUGGLING LLC
Single Bag
$8.00
3 Single Bags
$20.00
This Phoenix bag will hold a
single axe, with or without
the fire attachment, with a
Velcro strip to hold it in place
Single Bag
$8.00
3 Single Bags
$20.00
Reaper bag With a
Velcro strip to hold it in place