!-GénérEpar Avanquest Technology v:8.0. Pour plus d'information, visitez : http://www.avanquest.com -->
Due to the nature of these props, they are for use of experienced jugglers only
By purchasing from this site you are acknowledging that three finger juggling has no
responsibility for any injurys or damages that occur from any use
The Phoenix juggling axe is the bold new creation from three finger juggling. With its beautiful curvy design this axe is like nothing you have ever juggled before.

The phoenix also accommodates a fire attachment. Yes! That's right this is a fire axe!!!!!!! The handy attachment allows you to use the axe as a fire axe for outdoor fire shows or simply remove it for when fire is an issue. When the attachment is removed there is a nice spike in its place to keep the fear factor high!

The Phoenix axe is available with or without the fire attachment, and we are offering a discount if you buy 3 with the fire attachments, because we are nice like that!

Made from a top grade stainless steel these deadly looking axes will resist rust and stains better than most blades on the market. Use the fire attachments to heat the metal the produce steam and sizzling sounds when water is applied

Time to prove that everything looks better on fire!!!!!!!!!!!!!!
PHOENIX AXES
Accessories
PHOENIX AXE
PHOENIX WITH FIRE ATTACHMENT
SET OF THREE PHOENIX'S
WITH FIRE
$60.00
$75.00
$200.00

FIRE ATTACHMENT
$15.00
Weight: 22 oz

Length: 21 Inches
Width: 9 Inches

Price: Standard - $60.00 each
Price: Attachment - $15 each

Add To Cart Will Add 1 Axe To Your Cart - Quantities Can Be Changed There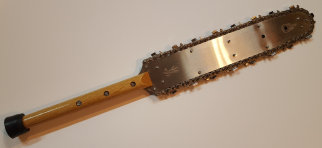 THREE FINGER JUGGLING LLC
This beautiful Phoenix Bag
Will Hold a single Axe With or
Without the Fire Attachment
with Velcro strips to hold it in place.
Single Bag
$8.00
3 Single Bags
$20.00