!-GénérEpar Avanquest Technology v:8.0. Pour plus d'information, visitez : http://www.avanquest.com -->
Due to the nature of these props, they are for use of experienced jugglers only
By purchasing from this site you are acknowledging that three finger juggling has no
responsibility for any injurys or damages that occur from any use
Bear traps catch bears, rat traps catch rats, so it is only fair to say that Juggler traps catch jugglers!!!!!!!!

The Juggler traps have been painstakingly designed and engineered here at three finger juggling not only to look scary as hell, but to be well balanced, a controlled juggle, and have the audience poised on the edge of their seats with the tension.

The traps are made from a galvanized steel, the handles are real oak which taper down for a comfortable juggle ending with one of our rubber knobs. The traps have been specifically engineered to close with a reduced force, they take some setting, which amps up the tension, but will cause no damage to your hands if you set them off. Dont get us wrong though, these traps do still close with a nice SNAP!

We didn't think anything could be more extreme than the Saw Blades On A Steeeck, but these are. These are for the juggler who wants that something different that audiences will never forget!
Weight: 19 oz

Length: 18 Inches,
21 inches including the setting spring

Price: $60.00 each

Add To Cart Will Add 1 Juggler Trap To Your Cart - Quantities Can Be Changed There
JUGGLER TRAPS
Accessories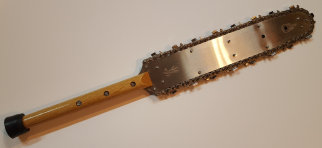 THREE FINGER JUGGLING LLC