!-GénérEpar Avanquest Technology v:8.0. Pour plus d'information, visitez : http://www.avanquest.com -->
Due to the nature of these props, they are for use of experienced jugglers only
By purchasing from this site you are acknowledging that three finger juggling has no
responsibility for any injurys or damages that occur from any use
Once again Three Finger Juggling is proud to present a world exclusive!

The Double Diamond juggling knives are the only juggling knives currently available with a double sharpened edge! (Well completely blunt edge! but sssshhhhhhhh don't tell the audience!)

These knives are made from stainless steel, perfectly balanced and more aerodynamic than most juggling knives, wonderful for numbers jugglers, first time knife jugglers or old seasoned pros.

The solid, real oak handles and black EPDM rubber protective knobs provide a comfortable and smooth juggle.
DOUBLE DIAMONDS
Weight: 11.5 oz

Length: 21 Inches

Price: $45.00 each

Add To Cart Will Add 1 Knife To Your Cart


Quantities Can Be Changed There
These bags fit a single or set of three of any of our standard knives (Razorbacks, Double Diamonds, and Buccaneers) Or the Machetes. They hold each set of knives tightly, so they won't fall out easily and they will protect them from scratches and damaging you other props.

The triple bags are capable of holding mix and match sets of knives and machetes
Triple Bag $15.00
Single Bag $8.00
Accessories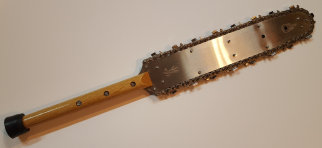 THREE FINGER JUGGLING LLC