!-GénérEpar Avanquest Technology v:8.0. Pour plus d'information, visitez : http://www.avanquest.com -->
Due to the nature of these props, they are for use of experienced jugglers only
By purchasing from this site you are acknowledging that three finger juggling has no
responsibility for any injurys or damages that occur from any use
Chain Swords or Flaming Chain Swords, need we say more?

How many times have you been performing and heard the all too familiar shout of "Oy, Can you juggle chainsaws????" well here is your answer! not only can you now juggle chain swords but you can juggle flaming chainswords!

The Chain Sword is available with or without the fire attachment. The handy attachment allows you to use the chain sword as a fire prop for outdoor fire shows or simply remove it for when fire is an issue. The fire attachment is double sided to make some big flames and to keep the chain sword well balanced at all times.

Made from a top grade stainless steel and real chain saw chain (dulled down to remove the bite but not the bark!) these deadly looking props will resist rust and stains better than most blades on the market. Use the fire attachments to heat the metal the produce steam and sizzling sounds when water is applied

Add a Kazoo to your act to have them rolling on the floor laughing but still have jaws drop as you actually juggle them!
Chain Swords
Accessories
CHAIN SWORD
CHAIN SWORD WITH FIRE ATTACHMENT
SET OF THREE CHAIN SWORDS
WITH FIRE
$60.00
$75.00
$200.00

FIRE ATTACHMENT
$15.00
Weight: 19 oz

Length: 21.5 Inches
Width: 3 Inches

Price: Standard - $60.00 each
Price: Attachment - $15 each

Add To Cart Will Add 1 Axe To Your Cart - Quantities Can Be Changed There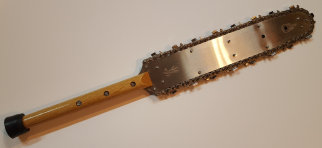 THREE FINGER JUGGLING LLC
The Standard Single Knife Bag
Will Hold a single Chain Sword Without the Fire Attachment
Single Bag $8.00