!-GénérEpar Avanquest Technology v:8.0. Pour plus d'information, visitez : http://www.avanquest.com -->
Due to the nature of these props, they are for use of experienced jugglers only
By purchasing from this site you are acknowledging that three finger juggling has no
responsibility for any injurys or damages that occur from any use
Once again a first from Three Finger Juggling! Awesomely dangerous Executioner Axes.

These Axes have been designed with the more advanced juggler in mind. As you can see from the pictures, they have a single sharpened blade. Obviously this is not going to make for balanced spins, but do allow for comfortable juggling as the blade tends towards the ground.

Once you are used to the slightly different juggle, nearly all tricks can be done with these scary looking props. There actually enhance tricks such as chops giving them a new skill and fear filled look.

Made from a top grade stainless steel these deadly looking axes will resist rust and stains better than most blades on the market.

Add a new twist to your juggling with these, don't just kill you audience, Execute them!!!!!!!!!
EXECUTIONER AXES
Weight: 16 oz

Length: 18 Inches Or 20.5 Inches
Width: 6 1/4 Inches

Price: Standard - $45.00 each
Price: Long - $50 each

Add To Cart Will Add 1 Axe To Your Cart - Quantities Can Be Changed There
Accessories
This beautiful Axe bag will hold a single axe, with a Velcro strip to hold it in place.

These bags ensure your axes stay clean, safe and scratch free while protecting your other props.
Single Bag
$8.00
3 Single Bags
$20.00
STANDARD AXE
LONG AXE
REPLACEMENT LONG HANDLE
Executioner Axes are now available in the Standard 18 inch length or with a longer 20.5 inch handle. If you wish to update your existing axes to longer handles please select the Replacement Long Handle. If you would like Us to install long handles on your existing axes please contact us to arrange.
$45.00
$50.00
$10.00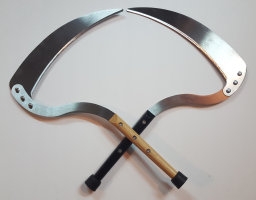 THREE FINGER JUGGLING LLC